The beginning of a great passion - 30 years ago with my foundation bitch ..
Hella v.Nauenhof (called Thora)
* 13.04.1984 - + 08.01.1995
(Lord du Clos Hurlant & Arlette vom Nauenhof)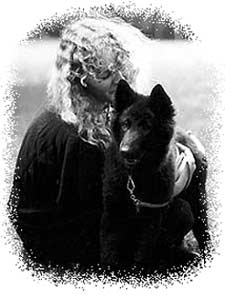 "Thora" was my second Groenendael female and was chosen to become the breeder in my kennel "vom Schwarzen Ulan"
Hella at the age of three months.
***
For 27 years the offspring of "vom Schwarzen Ulan" have brought forth typical, sturdy, good-looking Belgian shepherds of

highly appreciable market value.

The name "vom Schwarzen Ulan" has existed since 1989 and was underwritten by VDH and FCI.

Today the kennel enjoys the reputation of a highly successful privately owned canine stock.
We offer three varieties: namely, Groenendael, Tervueren and Malinois. You can find offspring of our breed as well as studs in the USA, Belgium, Canada, Finland, Germany, Greece, the Netherlands, Norway, Austria, and Switzerland.
So far, so good. If you are curious, why don't you visit our website and browse through our doggy tales. We hope you enjoy it!
© Ursula Buchen 2002 - 2014